JAMES WORTHY – GRAMMY AWARD SONGWRITER, PRODUCER & BILLBOARD CHARTING ARTIST!
PRODUCER JAMES WORTHY HAS WORKED WITH VARIOUS ARTIST INCLUDING SILK, SARA STOKES, TONY SUNSHINE, YUNG BERG, T-PAIN, JUSTIN BIEBER, ASIAN DOLL, JADEN SMITH AND SO MANY OTHERS. HIS NEW GROUP DUO "KINGS X2" INCLUDING "NOVA" HAVE DONE IT AGAIN WITH A HIT TITLED "WINE FOR ME" HIT NUMBER TEN ON THE BILLBOARD HOT ONE HUNDRED CHARTS. HIS MOST RECENT PROJECT "BLU LEISURE" WHICH INCLUDES THE HIT SINGLE "BLU SUNSETS" IS AVAILABLE EVERYWHERE. I DOWNLOADED "BLU SUNSETS" BEFORE IT FINISHED PLAYING. WITH TRACKS LIKE THIS, "JAMES WORTHY" WILL BE AMONG THE BEST IN THE MUSIC BUSINESS. "JAMES WORTHY" CAN'T MISS A SHOT…LAUGHS! THIS LAID-BACK GUY IS A BREATH OF FREASH AIR!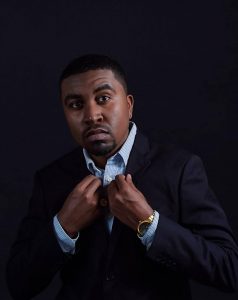 JW: From Queens, New York born & raised. I currently reside in Atlanta, GA.
TEL: Who or what was your motivation to become an artist?
JW: Life is my motivation to keep moving forward but growing up on "A Tribe Called Quest" made me get into music professionally.
TEL: What age did you get into music?
JW: Around the age of sixteen, I started making my own music.
TEL: What artists did you grow up admiring, listening to?
JW: A Tribe Called Quest, Naughty By Nature, Dru Hill, Kanye West, and many others!
TEL: Your first show?
JW: I actually was not nervous at all when I got on stage. The crowd participated greatly which gave me more confidence on my next shows. The first show was about one hundred people but it felt like a thousand!
TEL: Can you tell us about your Father's work?
JW: My father did work for artists like: Big Sean, Silk, New Edition, Fabolous and many others as security.
TEL: Was your Father a major part of inspiring your career?
JW: At an early age he was in a musical aspect, when it came down to live instruments and exposing me to R&B. That helped me in the long run!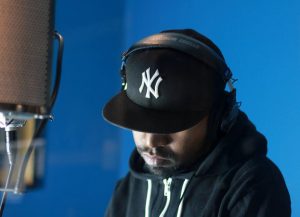 TEL: What was the toughest situation you've had to overcome, challenge or endure in the  business thus far?
JW: Learning about the business, trusting the right people, knowing how to get paid and understanding who I was in the business!
TEL: How did you handle that situation, the method?
JW: My method, patience was my biggest thing to acquire all of the information I needed to move forward.
TEL: Great answer. So many people think it happens quickly. Who was the first well known artist you worked with and to what extant?
MJ: Yung Berg. I produced a song for him that went on one of his earlier mixtape series.
TEL: How did you gain notoriety, via writing, producing or your music?
MJ: Consistency and quality made me gain it. Producing certain artists word of mouth was so strong that once a song was released, the others kept coming right after. I'd also say being able to switch between different genre's really helped.
TEL: You've worked with many established artist. Who did you enjoy the most and why?
MJ: Thats a hard one because they all have different styles of working but if I had to choose one, it would be 6lack. I love his tone and writing style.
TEL: Who would you like to work with in the future?
MJ: Kanye West!
TEL: Kanye West! That's what da fuck I'm trying to tell my people. Ye' is a serious producer, needs our support right now. Where do you see yourself in ten years?
JW: A Mogul and Executive!
TEL: Tell us about the roles you've played, acting. Do you prefer acting over music?
JW: Ive played the roll of an upcoming actor in the movie "Love By Chance" . I love acting but everything that I do has separate purposes. I love them all equally!
TEL: Your track "Blu Sunsets" is the joint!!! What Inspired you to write that?
JW: Thank You! I wanted to create something that felt good, great for R&B. Something that made the ladies feel good as well.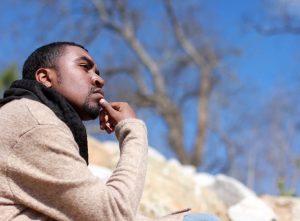 TEL: Any intentions on a remix? I can definitely hear of my favorite Hip hop artist dropping a few verses. (laughs)
JW: I definitely will be doing a remix! A Special guest! lol
TEL: Your recipe for a great track?
JW: Melody, Substance, and of course great production!
TEL: How do you prepare for the studio?
JW: I'm pretty simple. A Couple candles, dim lights and my equipment. No smoking but maybe an occasional drink.
TEL: What's next for James Worthy?
JW: Everything. From my debut album, tours, producing artists, number one hit singles, movies, etc!
TEL: Your Hobbies away from music?
JW: Collecting art, traveling, trying new things!
TEL: Do you like the direction that R&B is going over all?
JW: Real R&B is slowly coming back. I think mainstream radio needs to put it in rotation much more because the demand is starting to rise for it.
TEL: Indeed. Your advice to up & coming artist?
JW: Be yourself, Believe in yourself but most importantly never take away the integrity of your music! Shoutout to Humble Sound Music Group, DJ Jaimeo, & all my fans around the world!
James Worthy:
Musician, Songwriter, Artist
Humble Sound Music Group
@kingjamesworthy [email protected]