MEDIA MADE MAGAZINE CAUGHT UP WITH "HADDY RACKS" STAND UP FOR ANOTHER AUTHENTIC HIP HOP ARTIST! "HADDY RACKS" IS CARRYING THE BRONX ON HIS BACK! DESTINED TO BECOME THE NEXT HOUSEHOLD NAME, "HADDY RACKS" IS PUSHING FORWARD HARD AND FAST. "HADDY RACKS" REMEMBERS HIS YOUNGER DAYS WITH HIS EAR TO THE RADIO, WAITING TO HEAR HIS FAVORITE ARTIST. NOW "HADDY RACKS" HAS COLLABORATED WITH FAT JOE, DMX AND DAVE EAST TO NAME A FEW. "HADDY RACKS" REMAINS HUMBLE IN ALL OF HIS SUCCESS AND HAS SOME GOOD INFORMATION FOR HIS FANS. "HADDY RACKS" IS A BREATH OF FRESH AIR FOR SERIOUS HIP HOP HEADS. I SUGGEST YOU GRAB A PEN AND A PAD AND TAKE SOME NOTES.
MEDIA MADE MAGAZINE CAUGHT UP WITH "HADDY RACKS"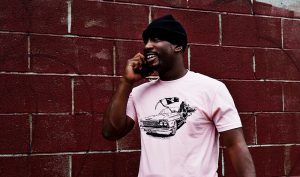 HR: Growing up under the influence of Islam is what made use the name Haddy Racks. It comes from an Arabic word "Haddy" which means guide in English and the last name Racks, comes from an urban slang word to describe large amounts of money. When you place the two words together It's Haddy Racks = The guide to money.
TEL: Born and raised?
HR: I was born and raised in the Bronx, NY My mom's is the from The Bronx and my father is from Harlem. I currently reside in the city but I'm heading to New Jersey. You know all the rapper from New York end up move to jersey!
TEL: What was your first inspiration to rap?
HR: My first inspiration was waking up to my mother playing R&B music every weekend. Then my uncles would play Biggie Smalls and the Lox and Jay-Z music. I remember when I first heard "juicy" I was instant fan and that was actually after I heard him on Craig Macks "Flava In Ya Ear" remix as a matter of fact I'm bugging, I became a true Hip Hop fan after I watched "Wu-Tang "cream video. That video made me fan of that gritty New York feel because the video was so familiar to where I come from.
TEL: What were your interests as a youth outside of music?
HR: When I was young I was heavy into basketball, I use to take basketball just as serious as I take rap now. I was known thru out the Bronx for playing ball, when I was in High school, I actually use to have scouts from different colleges trying to get me to come to their schools, but the streets messed up my Hoop Dreams…
TEL: How long have you been in the entertainment business?
HR: I have official been a recognized artist in the entertainment business the last three years. I was pushing much longer than that. However, in the last 3/4 years I became a recognized rap artist-once Jovan who use to be a Hot97 DJ started playing my record "Where the Bronx At" shouts to him and Buda Da Future for the help behind pushing that record.
TEL: Your first major event/ show. Where was it, how'd it go? Take us back!
HR: My first official show was when I performed at the santos party house with Grafh, Fred Da Godson and Raekwon. Me and Count RollUp shook the stage so much that Raekwon told me he wanted to meet me. After we met we exchanged numbers and he told told me he had become a huge fan of mine. I was impressed and I felt honored to have a legend Like The Chef himself, tell me that he's a fan of my music…
TEL: The Bronx has serious history. Do you think today's artist from The BX take it as serious as they should?
HR: Yeah, I think that artist from the Bronx definitely take the history of where we come from serious, you have artist like Cardi B and A-Boogie out here making the Bronx look absolutely great right now. I think we needed this for the borough because we don't get the recognition that we deserve. Sometimes I feel like we the underdogs. Big shout out to all the all artist from the Bronx that's out here representing the borough correctly!
TEL: How do you feel about the transformation in the art form, the mainstream mediocre rhymes dominating the airwaves?
HR: Thats a great question honestly. It bothers me when I hear people say things like "lyrics don't matter" or being lyrical is being "old". That's a sad statement to make because it plays a part on your brain as an artist trying to be successful in today. I feel like people should stick to whatever it is that there great at, if you're a lyrical rapper be lyrical, if you're a trap rapper be a trap rapper. I get so many people on a daily basis that tell me I need to change my style to sound like the artist that they hear on the mainstream radio today and sometimes it kinda makes me second guess the music I make and question myself about whether I'm making the right choice musically or not.
TEL: Your solution?
HR: I believe that every artist isn't going to be as good as I am lyrically, but they may make great music that still touches their audience. People need to stop letting other people determine what works for them and do what they feel is necessary for them to be a relevant musician, including myself. The other day a friend of mines from out in Orlando, Florida told me that he was having a conversation with a friend of his, who is locked in a maximum-security jail serving a life sentence, who was telling him how the whole jail that he is are big fans of my music. Then he told him to tell that the music I make motivates a lot of people in the prison he's in. so when I hear shit like that it just reminds me that I need to stick to my craft and continue to do what I do naturally.
TEL: I'm also seeing a trend; authentic Hip hop artist are being pushed "underground". Is that fair assumption?
HR: My idea of authentic Hip Hop artist would be people like Jay-Z, Jadakiss, Nas, Fabulous, Jim Jones and people of that caliber. I don't think they can be perceived as underground artist because these dudes still pack stadiums, so I don't think that there is too much truth behind that statement.
TEL: Women in Hip hop. Do you feel the work ethic is the same or are they getting places faster than your average hard-working Male Artists?
HR: I think that women in Hip Hop have to actually work harder than the men. They have to deal with all type of harassment situations and people that just wanna have sex them. however, I also think they have to put in a lot of work because no matter how good you look \nor how dope you are as an artist, you still have to put in your footwork. You think about an artist like Cardi B – she went through a lot to get where she's at, and she deserves to enjoy every second of her success. She worked her ass of and this is what all artists should pay \nattention to, whether you're a male or female.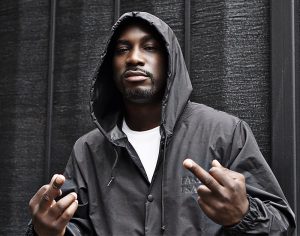 TEL: Any female artists you'd like to collaborate with in the future?
HR: I wanna work with Cardi B and I wanna work with Nicki Minaj and SZA, those are three dope female artists, and I am a fan of all three of them. People need to stop making comparisons and acting like we can't support Nicki and Cardi both – I mean they both representing New York and they both representing Rap Music.
TEL: You've worked with some established artist. Who are they and how did it happen?
HR: I've been honored to work with some major artist in the game. My first official collaboration was when I got on a record with Fat Joe that connection came through my friend Buckwild, who is actually a close friend of Joe. I also got the chance to perform with DMX at a few shows, I met X initially at an event, and my friend and fellow nartist OneShot Dealz facilitated the performance aspect, so that was all good synergy, Dave East and I collaborated and did a record which became the title track for my debut album Resume. And recently Styles P and I started working on some records together, and me and Jada are going to hit the studio soon as well. And I can't forget Jim Jones, I grew up watching Jim, so the fact that me and him actually have a personal relationship with one another now, is almost like a dream come true for me and don't forget to make sure you download his latest project "Wasted Talent."
TEL: Are there any artists or groups you are working with?
HR: At the moment the only artist I'm working wit is Flip Hendrix, who happens to be a part of my record company Rackdup Entertainment. I also have a R&B artist named Ran Christian.
TEL: I hit replay on your track "Live from the 718" several times. That's the real! Can we get a remix with some of NY's greatest?
HR: Yea I would love to get some New York artists on there. My thoughts would be to put artist like Raekwon, Cam'ron, Fabolous, Jada, Jay-Z, Jim Jones, Styles P! Man I would put all my favorite rappers from New York on there I can't even sit here and keep name dropping because it's so many people I'm leaving out ..
TEL: Do you feel NY artists are falling into the "trend" to simply get numbers. Or are most remaining true and authentic?
HR: Yes, I strongly agree to this. I think that a lot of new artists from New York are simply trying to fit in and you can't blame them, especially if they aren't doing it out love. I feel most people nowadays rap because it's cool to be a rapper They don't really have the love for the art. A lot of New York artists aren't being true and authentic to the New York sound because they're just going with the trend of what sounds hot now. Then you have people like myself and Dave East among others that still have that significant New York sound.
TEL: Dave East is that guy! You're well established in Hip Hop. Who would you like to collaborate with and why?
HR: I wanna work with Kanye West, I always felt like Kanye was a dope artist/producer. He knows how to bring the best out of the artist that he works with. I'm totally looking forward to hear the project him and Nas are working on. I also wanna work with Lil Wayne, Weezy is the king of the South to me, along with TI and Jeezy..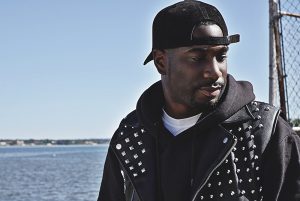 TEL: What is your favorite track of all your music and why?
HR: My favorite track of all my music at this moment I would say "Slippin", which is my take on DMX's classic. This record means so much to me because it represents so many devils I deal with and currently still deal with. Every time I hear the song I feel it's my first time hearing it. Every human being has "slipped" at some point in their life, it's was makes us human. Sometimes I listen to it as a reminder of where I don't wanna be and gives me motivation to keep pushing so I won't be "slipping" anymore. That's real shit
TEL: How many mixtapes have you appeared on?
HR: I've appeared on many mixtapes, The best one to me was the mixtape I did with Bonnie & Clyde where they serviced the music to all the prisons. When you get calls from people in jail telling you that you keep them sane and feelin like they actually have a chance when they get out of there, that's a priceless feeling.
TEL: What's your recipe for a good track?
HR: My recipe for a good record is the production. I have to have good production when I'm in the studio. I hate bad music, it irks my soul to be honest and I like to be around creative people in the studio also…
TEL: How do you prepare for the studio?
HR: I just go off the energy. I'm a person that goes off whatever energy the universe is sending me. I don't need weed or alcohol, I just need energy. The energy can be whatever. If it's bad energy I'll go in and make a angry song, if the energy is happy I'll go in and give u a record like "Relationship Goals" I create based off of the energy I'm giving!
TEL: What is your main motivation?
HR: My main motivation is my fans and the people who believe in me. I feel like I owe it to them. I wanna prove that they don't make the wrong decision by choosing to believe me. People get so busy trying to Impress people that don't give a fuck about them, that's they actually forget to impress the people who genuinely do care for them. I wanna win for all my supporters can comfortably keep supporting me.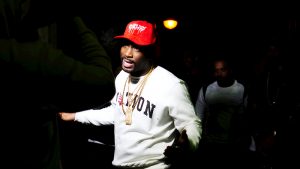 TEL: Away from music, what are your hobbies?
HR: My hobbies are cooking and playing sports. I love cooking just as much as I love basketball and remote-control cars. I'm also finding myself becoming a sneaker head.
TEL: What do you feel needs to change in the business and why?
HR: I think what needs to change is the mentality of the people in the business. I feel like lot of people actually forget that this is a business. It's the business of music. People learn how to sing, they learn how rap, they learn how to do everything except learn the business and this is where people fail. You can wake up today and become a hip-hop star tomorrow and make tons of money and never learn the business and then wonder why two years down the line you're flat broke and don't have a pot to piss in.
TEL: What are your long-term goals in the industry?
HR: My next move is film directing and writing movie scripts. I actually one that I wrote already that's pretty dope. I also wanna venture off into clothing and several other business ideas that I wanna jump start.
TEL: What is next for Haddy Racks?
HR: Next for me to is become a mainstream artist. I' think this year I'll become a household name. I could feel it, and as soon as I get big, me, Dove & Count RollUp are going to a faraway place with our families to celebrate.
TEL: Advice to artist seeking the business?
HR: My advice to artist would be to learn the business and build great relationships with people. Your net worth depends on your network in the music business. Having relationships with the right people can take you far in the music game. I wanna shout out God first, then \nall my supporters, Huge shout to My manager Dove Clark, for everything – she has a major role in life and I don't know where I would be without her…
You can find me on social media @HaddyRacks and on:
YouTube http://YouTube.comhttp://youtube.com/HaddyRacks
I wanna shout out my crew Rack'd Up Entertainment, Count RollUp, Bags, 5, Uncle Light, Savi, Adot, Hellbound June, Vinny idol, Smooth, spills, my beautiful lady Joy, my mother, my kids, can't forget Ran Christian and Flip Hendrix, Wonderboy Wize, Monica, Rene, B-dot, the team at Tygereye Entertainment and ONErpm, and whoever I forgot my fault I apologize and if it's love u already know its love…