Robbie, the Super-Nova
The word Supernova means: A star showing a large increase in brightness and the word Nova means: New star. Overall, whether we are talking about a Nova or Supernova, they both can cause an explosion that is brighter than the sun and later they will return to their original state of being This brief description will explain the career of this next artist, who not only sings and writes, but he's also a Producer. Robbie Nova is the epitome of what is known as a Super-Nova, due to the explosion of his talents and how the debris of his creativity has landed in various locations within the music industry. As an artist he goes in full throttle, but as a realest he does challenge himself from time to time. One task that he had given to himself, was to produce and record from home. Robbie the Supernova started this venture once he began buying equipment and then he became the producer of his own music. As a native of New York, Robbie represents the entire state and I see him as one of a select few within the industry that sings, writes and is known for working with some of the elite artists of Hip hop, which include: Maino, Beenie Man, 50 Cent, Jim Jones and others. Another credit added to his resume, was the 2018 independently release of "Knew I Was A Star" matter of fact the exact date was 2/9/2018. During his ongoing career, he has created and stuck by his own formula which has guided him into success and it is done just like a puzzle, with a unique process. I actually read that Robbie, began working on his album just by sitting at his keyboards, coming up with ideas to play and then came his creation of verses and hooks. As a performer, he has opened for artists like: Akon, Soulja Boy and Beenie Man, not to mention that he worked alongside: Bobby Valentino, Pleasure P and others. Robbie also landed on BET's 106 & Park "Artist Spotlight" and "Blaze the Stage" concert. Back in 2013 as part of the Presidents (Easter) he performed at the White House and shortly after he headlined BET's (Music Matters Showcase) which was held in NYC. Back in 2014, he joined international recording artist (Beenie Man) on tour throughout the States and Canada.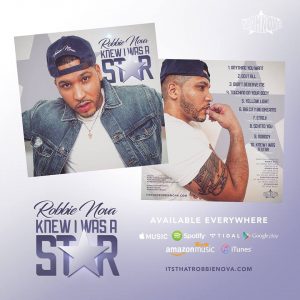 There is so much to be written on this young man and artist who has recorded the voices of other artists like: Jim Jones, Troy Ave, 50 Cent and others. His music has been on the  Hip hop and R&B charts, #7 on Japans Itunes and back in 2010 he made an appearance with  Russell Simmons on the Oxygen Network. Over the years, Robbie has written and produced for numerous up and coming artists, which is an expansion of his own talents. He also wrote  and produced the song titled "Make It Official" which aired on (Love & Hip hop). As time  moves forward, so will the talents and accomplishments of Robbie Nova and  what you just read is just a fraction of  what he has done. One true fact about the music industry is, no matter what genre you are a part of (as far as being an entertainer) we have seen so many come and go, yet so few continue on the path that is designed just for them.
Robbie Nova is an individual and then an artist, but he is an artist which believes in Himself, His abilities and His talents, more importantly he knew, felt and then trusted in his gift. A gift which allowed him to remain humble and thankful, which makes Robbie a certified class act and a Super-Nova!
For more information
www.itsthatrobbienova.com 
Please contact:
MGMT Worldwide Enterprises Inc.
[email protected]