Description
Please visit https://constantinecigars.com to learn more about high quality Constantine hand rolled cigars.
READERS. I HAD TO MEET MY MAN SANGRIA AT A BUSINESS MEETING. I EXIT THE ELEVATOR TO A UNIQUE MEDIA STUDIO. I SEE MY MAN SANGRIA TALKING TO A TALL BROWN SKIN BEAUTY!
SANGRIA GIVES ME THAT LOOK, LIKE "YEA FAM LOOK AT THIS ONE HERE!" I HAD TO CLEAR MY THROAT BEFORE ANY WORDS COULD COME OUT. SHE SAID QUICKLY "I'M LAUREN WITHERSPOON"
WE'D SPEAK WITH LAUREN FOR THIRTY MINUTES BEFORE SHE EVEN MENTIONED HERE BUSINESS. THAT'S THE VIBE SHE GIVES., STRAIGHT DOWN TO EARTH PLUS 100!
SHE ALREADY HAD MEDIA MADE MAGAZINES BUSINESS BEFORE SHE MENTIONED IT. "LAUREN WITHERSPOON" ALREADY UNDERSTANDS BUSINESS. ESTABLISHING RELATIONSHIPS IS MOST IMPORTANT. LAUREN KNOWS YOUR PRODUCT CAN BE GREAT BUT IF YOUR ATTITUDE IS GARBAGE, YOU WON'T GET FAR.
I WILL CONFIRM IF "LAUREN WITHERSPOON" SHOWS UP TO YOUR BUSINESS WITH A BOX OF "CONSTANTINE CIGARS" YOU'RE GOING TO BUY."LAUREN WITHERSPOON" ALSO HAS A BIG GUNNER BY HER SIDE ASSISTING HER TO BE THE BEST AT WHAT SHE DOES. I SUGGEST TO ALL THE ARTIST TO BUY FROM "LAUREN WITHERSPOON"
"LAUREN WITHERSPOON" WILL MAKE SURE YOU GET THE BEST IN CIGARS. YOUNG ATHLETES DROP HER E-MAIL. SHE CAN FILL YOU IN ON SCHOLARSHIPS IN VARIOUS SPORTS. MEDIA MADE IS PROUD TO FEATURE THIS YOUNG BEAUTIFUL SISTER DOING HER THING. "LAUREN WITHERSPOON".
Constantine Hand Rolled Cigars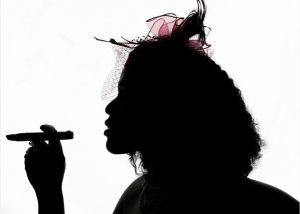 TEL: Born, raised currently reside?
LW: I was born in Riverside, CA, and raised in Ahwatukee, Arizona. Currently,
I am residing in South Phoenix, Arizona.
TEL: Give us a brief explanation of why you chose the tobacco industry?
LW: I chose the tobacco industry because I saw an opportunity to create a space for women to engage in the male-dominated cigar industry by learning how to smoke high-quality, hand-rolled cigars.
TEL: Over the years what has been your motivation to continue?
LW: After introducing my cigar line to both men and women, the overwhelming responses from clientèle at multiple locations has convinced me to press forward in my venture to break barriers in the male-dominated industry.
TEL: Why did you choose the Name Constantine for your company?
LW: The name "Constantine" represents an exceptional commitment to outpacing the competition by providing bold, distinctive, high-quality, hand-rolled, flavored cigars.
TEL: How many other female Cigar companies are present in the industry?
LW: In Arizona, there is no other direct competition from a female-owned brand that specializes in tobacco leaf used to create premium, hand-rolled cigars.
TEL: How would you describe your business ventures?
LW: Initially, Constantine was implemented to offset college expenses that were not covered by my athletic and academic scholarships. Starting Constantine during my sophomore year was challenging to manage as a full-time student-athlete who was playing lacrosse and modeling throughout the East Coast.
TEL: You've managed to make connections with foreign countries, regarding tobacco. Give us details.
LW: The scope of my business required collaborations with suppliers in Italy, Honduras, Nicaragua, and the Dominican Republic.
TEL: Much of your business work was initiated during your college years. How did you balance the two?
LW: My commitment to succeeding included maintaining my faith and believing that this endeavor would require a greater force than me to be successful. Support from family has played a key role in helping me make it through the rough times.
TEL: You ship and deliver worldwide or only to certain states and countries?
LW: My focus is on the domestic market in the United States.
TEL: Give us the flavors, kinds of cigars you carry and the differences?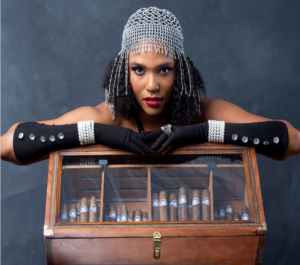 LW: Constantine offers cigars in different gauges from our skinny cigar, to our robust and beyond. We offer an assortment of flavored experiences that will make taste buds come to life! These flavors include but are not limited to: Chocolate Jack, Vanilla Hennessy, Cognac, Tequila, Milk and Cream, Blueberry, Cafe, White Chocolate, and more.
TEL: You personally are not a big smoker but you have a knowledge of your products. How is this possible?
LW: As a professional athlete, I prefer to smoke cigars in a casual and social manner. My father is my mentor when it comes to smoking cigars.
TEL: Defiantly appreciate the relationship with the father. This is a must in our times!
TEL: For newbies, what's the difference between a Cigarette and a Cigar?
LW: There are many differences between a cigarette and cigar. Cigars are smoked differently from cigarettes. Cigars are not normally inhaled. The cost of a cigar is normally higher compared to a cigarette. Cigars are a conversation piece that may last from 15 minutes to an hour depending on the size of the cigar. In addition, most people that smoke cigars regularly tend to have more disposable income because the price of a cigar can range between $3 and $50.
Constantine Hand Rolled Cigars and the Cigar Industry
TEL: How big and prosperous is the Cigar industry?
LW: The cigar industry is very promising. Although the cigar industry is male-dominated, cigars have become more popular amongst the female population as well. Knowing this information has enabled me to tailor my products to women who smoke cigars, while also tailoring my products for men who smoke cigars as well.
TEL: Where do you see your business in five years?
LW: In the next 5 years, my goal is to build my cigar lounge from the ground up that will feature amazing amenities.
TEL: You're also an established model. Tell us about that background?
LW: For the last 3 years I have worked primarily as a photo/fashion model, with a huge passion for runway. I mainly do photo shoots and runway shows, but I also enjoy doing commercials/billboards and promotional jobs. During my college years, I was hired for an ad campaign for the Big E, America's Premier Exposition and world's only multi-state fair, located in West Springfield, MA, in which I was in a commercial and billboard for both years. In 2019, I attended New York Fashion Week for an agency called African By Art. In 2020, I was featured in another ad campaign for Florence Bank, and the commercial was broadcasted during the Super Bowl game by multiple TV stations throughout Massachusetts. Currently, I am still actively modeling and have been utilizing social media to showcase myself as a model.
TEL: Do you think your modeling appearance has helped your business promotions?
LW: Absolutely! As a model, I have been able to create my own marketing and promotion for Constantine. It has made it easier because I don't have to hire other models for advertising. I am able to be the face of Constantine when it comes to promoting my business, and I get a lot of positive feedback for doing so.
TEL: In addition to several things, you're a serious Lacrosse player. Give us some information on your skills and the availability of scholarships for that sport.
LW: I have been playing lacrosse for 6 years (2 high school, 4 in college), and have continued to play after finishing my college career. I have been competing in tournaments for a women's team called Arizona Storm.Playing co-ed lacrosse every week has enabled me to work on my lacrosse skills. I was invited to attend a lacrosse tour in Australia, and is currently fundraising money for the trip! After playing lacrosse for 2 years in high school, I was blessed to receive both an athletic and academic scholarship from AIC. Certain colleges and universities that offer lacrosse tend to have many scholarships available after recruiting is over due to the lack of highly skilled and athletic lacrosse players available.
TEL: What projects are you currently working on concerning your various backgrounds?
LW: Currently, I am working on developing my non-profit organization called Arizona Youth Lacrosse Association. Fundraising, establishing collaborations, and event planning has been a challenge to manage at the moment. However, I am excited to start introducing the sport to the youth in my community!
TEL: What are your hobbies away from the business?
LW: I have many hobbies that I enjoy doing during my spare time. My hobbies away from my business include shopping, reading, meditating, working out, painting/drawing and more!